Thanks for coming
Boston Show at Regatta Bar

2 shows! 7:30 & 10pm Friday, November 6th, 2009
Regattabar at Charles Hotel (Harvard Sq.) Cambridge, MA

Price: $20 for 7:30 show, $18 for 10 pm

With Special Guest, Percussion Master Jamey Haddad, Direct from Spain Dancer Nino De Los Reyes & Percussionist Sergio Martinez, plus Stan Strickaland(Flute), Seiki Tamura(guitar) and Barbara Martinez(Singer/Dancer)

TICKETS on sale now! Click for Tickets for 7:30pm, Tickets for 10 pm
About special guest musician at Regatta Bar

Please join us for this rare opportunity to hear Juanito with very special guest, one of the world's great percussionists, Jamey Haddad. Jamey has been a steady memeber of Paul Simon's band for over 11 years, performed and recorded with artists including Yo-Yo Ma, Herbie Hancock, Carly Simon and Dave Liebman and has appeared on more than 175 recordings. To learn more about this master musician click here.
Also appearing,


Stan Stricland



Singer, saxophonist, flutist, actor Stan Strickland has performed throughout the United States, Europe, Scandinavia, the Caribbean, New Zealand and the former Soviet Union. In addition to numerous radio and television appearances, Stan has performed in many clubs and concert halls, including Jordan and Symphony Halls in Boston, Carnegie Recital Hall and Town Hall in New York, and at the Kennedy Center in Washington, D.C. His work has been featured on recordings by Bob Moses, Marty Erlich, Webster Lewis and Brute Force. Stan has performed with jazz greats Yusef Lateef, Pharoah Sanders, Herbie Mann, Danilo Perez, Shirley Scott and Marlena Shaw. Love & Beauty, Stan's new jazz vocal CD, featuring new arrangements of great jazz classics as well as original material, was released by Hawkline Records in 2005.Stan has opened for Jazz greats Miles Davis and Sonny Rollins, and for Barenaked Ladies. He toured South Africa with The Village People, and was a featured soloist with Take Six and the Boston Pops at Symphony Hall.His acting experience includes the leading roles in the Boston Art Group's production of Harlem Renaissance, NotheasternUniversity's production of Crossing John, and Dr. Sax in a production of Jon Lipsky's play about Jack Kerouac, Maggie's Riff, produced by the Vineyard Playhouse.Stan has performed and collaborated with over a dozen choreographers including Alvin Ailey, Jose Limon, and Bill T. Jones.

Stan is profiled/featured, (along with Blair Underwood and Lamar Burton), in a new film documentary that was filmed this past spring, entitled Black Man Up.He has performed at the prestigious Sundance Film Festival for the premiere of Academy Award winning documentary Born into Brothels and at three exclusive fashion/fragrance events for fashion icon Donna KaranStan has a M.A. degree from Lesley College in Expressive Arts Therapy where he is an adjunct professor. He also teaches at Berklee College of Music, Tufts University and Longy School of Music. Stan is Co-Executive Director of Express Yourself, a multidisciplinary team of professional artists, working in partnership with adolescents in public mental health residential facilities to produce multimedia performances that celebrate the restorative powers of serious art making.
--------------------------------------------------------------------
Mon, Jun 15th, 2009 12:00 AM EDT
VIDEO MESSAGE
Thank you for coming!
For all who came to Juanito's album' release concert at Jordan Hall!

The new album "Language of the Heart" will be available to purchase online very soon. Meanwhile, Juanito will be holding his annual Flamenco Workshop at New England Conservatory. (June 21~27th. For details, click here.)

Juanito will be touring many places around the world including Holland, Canada, Spain etc... with his new album, so stay tuned.

Here are some of the upcoming dates in July.
--------------------------------------------------------------------
Tuesday, July 14th, 2009
Halifax Nova Scotia
Canada
Alex Conde Carrasco Quintet
--------------------------------------------------------------------
Saturday, July 25th, 2009
One Longfellow Sq.
"Language of the Heart" Album Release Celebration! - 8pm
Portland ME
http://www.onelongfellowsquare.com
(207) 761-1757
Price: $18/$21
--------------------------------------------------------------------
Sunday, July 26th, 2009
Payomet Performing Arts Center
8pm
North Truro MA
(508)-487-5400
Juanito Pascual Quartet
--------------------------------------------------------------------

* Thanks a million to those who made this

event possible. You're the best!
This special event will feature two of the most recognized young artists from Spain, Nino de los Reyes, & Jose Anillo along with a stellar line-up including Juanito's long-time collaborators Rohan Gregory, Stan Strickland, Gonzalo Grau, Jerry Leake, Seiki Tamura and introducing on the bass, Matias Alvear.
Click Here, for more info on these artists, including dancer Nino de los Reyes and singer Jose Anillo both coming from Madrid.

On Friday June 19th 2009, at 8:00 p.m, Boston's critically acclaimed flamenco guitarist Juanito Pascual celebrates the release of his newest album, Language of the Heart with a spectacular concert at Boston?s renowned Jordan Hall at the New England Conservatory of Music, 30 Gainsborough St. in Boston.
The event, presented by Culture Fest International in association with The Intercultural Institute at New England Conservatory is also a fundraiser and awareness builder for Culture Fest International, an ethical global events initiative supporting the arts empowerment work of the non-profit edutainment organization, Second World .



This concert will be followed by a one-week intensive flamenco workshop "Unlocking the Art of Flamenco" being offered at Boston's NEC from June 21-27. This interactive hands-on experience allows students of all levels to learn rhythms, singing and dancing, as well as instrumental instruction.
For details, click here .





* Jordan Hall of New England Conservatory

Jordan Hall is a 1,019-seat concert hall in Boston, Massachusetts, USA and part of the New England Conservatory of Music. It is located one block away from Symphony Hall, and together they are considered two of America's most acoustically perfect performance spaces for classical music. It is the only conservatory building in the United States to be designated a National Historic Landmark.

The hall opened in 1903, as a gift of Eben D. Jordan II, a Conservatory trustee and a Jordan of the Jordan Marsh retail store. Its architect was Edmund M. Wheelwright of Boston's Wheelwright & Haven, who later designed nearby Horticultural Hall. The hall's unusual square floorplan reflects its underlying plot of land but despite its shape, the hall has excellent acoustics, and all seats on both the main floor and horseshoe-shaped balcony have unobstructed views of the stage. The hall's prominent organ is modeled upon that of the Santa Maria Scala in Siena.

The dedication concert of Jordan Hall, performed by the Boston Symphony Orchestra, took place on October 20, 1903, and created quite a stir. Effusive newspaper accounts deemed the hall "unequaled the world over," and the Boston Globe reported that it was "a place of entertainment that European musicians who were present that evening say excels in beauty anything of the kind they ever saw."

Jordan Hall has won numerous awards since it restoration in 1995, including the 1996 Massachusetts Historical Commission Preservation Award, the Victorian Society in America's Preservation Commendation, the 1996 Boston Preservation Alliance Award, the Illuminating Engineering Society of North America Award of Merit, and the Illuminating Engineering Society 1996 Lumen Award.

Innumerable performances have taken place in Jordan Hall, including some 650 student performances per academic year as well as appearances by virtually every major classical musician of the past century.
That list includes performers Nadia Boulanger, Pablo Casals, the Martha Graham Dance Company, James Galway, pianists Radu Lupu, Rudolf Serkin, Richard Goode, Krystian Zimerman, Garrick Ohlsson,Yundi Li, Richard Stoltzman and Isaac Stern; vocalists Marian Anderson, Dawn Upshaw, Ben Heppner, David Daniels, and Lorraine Hunt Lieberson; guitarists Andrés Segovia, Christopher Parkening, Julian Bream, and Sérgio and Odair Assad; conductors Arthur Fiedler and Kurt Masur; composers Béla Bartók and Aaron Copland; jazz legends Stan Getz and Benny Goodman; and the Budapest, Juilliard, Guarneri and Tokyo string quartets.



Jordan Hall is home to From the Top, a National Public Radio classical music show hosted by New England Conservatory alumnus Christopher O'Riley. In addition, the Boston Modern Orchestra Project, New England String Ensemble, and the Boston Philharmonic play many of their concerts at Jordan Hall.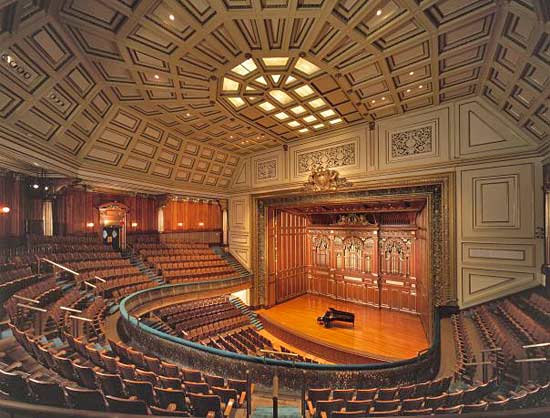 Mon, Jun 8th, 2009 12:00 AM EDT
Blog #7 Countdown into Album Release show!


Friday June 19th 2009, at 8:00 p.m
Wed, Jun 3rd, 2009 12:00 AM EDT
Blog #6 Poster for the show
Fri, Apr 10th, 2009 12:00 AM EDT
Blog #5- Boston Summer Flamenco Workshop at New England Conservatory !
June 21st through 27th
, this fun, interactive workshop, now in it's fourth year is co-taught by me, dancer Sara Erde, and cajon player Gerardo Morales. We have created a format where everyone gets to do a bit of everything-singing, dancing, percussion, clapping. This is the way flamenco is learned in it's native environment, and every year we have been amazed at how, in one week, the group comes together to do beautiful performance featuring what we learned in this intensive immersion program. Open to the pulic, registration has already begun. For details, click here .
Fri, Apr 10th, 2009 12:00 AM EDT
Blog entry #4
Just back from a couple of great solo concerts in Austin TX and Sonoita AZ.
I look forward to returning in the fall with my group. People in Austin have such a love for live music-it was great to go and experience that.
Setting sights now on the CD release, June 19. It's all coming together and we're very excited about how the CD is sounding and the Jordan Hall release concert!!
Jordan Hall in Boston
Sun, Mar 15th, 2009 12:00 AM EDT
Blog Entry #3
Hi! Just back from Mexico. What a beautiful place! It was a quick trip with five performances in four cities, all in 7 days (3 with Alejandro Carrasco's group and two solo)- a great introduction to this magical land. The lovely people, landscape, colors, fresh fruits and great food all around-I look forward to getting back soon to explore further!
Sun, Feb 22nd, 2009 12:00 AM EST
Blog #2
The highlight of the year so far has been the week spent last month in Panama, with Alejandro Carrasco and group, perfomring in the Pananma Jazz Festival
. This event was created by Danilo Perez and had it's sixth B-day this year. The atmosphere was so special, with everyone feeling part of a big extended family of music makers and lovers. We met, heard and were heard by many extraordinary musicians including
Wayne Shorter, Chucho Valdez, Ruben Blades, and so many more. A real gift to be part of that. -JP




Sun, Feb 8th, 2009 12:00 AM EST
BLOG #1
Hi! Thanks you for coming by my website! This year is shaping up to be an exciting one and I am looking forward to writing regular blog entries to let you know how everything is going. In the next few months I'll be playing in Mexico with Alejandro Carrasco, doing some solo performances in TX. AZ. IL and MN etc..
Sat, Feb 7th, 2009 12:00 AM EST
Pink Panther!
"Juanito in Pink Panther 2 !"
Juanito will be appearing briefly in the February 2009 release of "The Pink Panther 2" starring Steve Martin, John Cleese and Andy Garcia.This movie, which was filmed in Boston in September and October of 2007, features a short flamenco scene in which Juanito had the great pleasure of accompanying
Steve Martin
, while he "danced" alongside flamenco dancers Omayra Amaya, Oscar Valero and Lia Ochoa.
Juanito says, "Steve Martin really was incredibly funny in person and very nice too! It was a real treat to have this opportunity."
Juanito, Omayra, Steve, Oscar & Lia!

Fri, Feb 6th, 2009 12:00 AM EST
JPTV


JP-TV#1! a scene from recording session

This is the first 'episode' of our new JP(juanito pascual)TV series.


Sun, Oct 12th, 2008 12:00 AM EDT
New CD !
New CD on the Way !
~ Language of the Heart ~
Recording dates have been set and a world-class group assembled featuring Grammy-winner John Patitucci, Jamey Haddad of Paul Simon's group, singer Elena Andujar, and many more, for the much awaited follow-up to "Cosas en Comun"! Be a part of this exciting project and receive signed CD's, concert tickets and more!


Sat, Sep 6th, 2008 12:00 AM EDT
UPDATE: LOWELL'S CULTURE FEST 2008 RESCHEDULED FOR
SUNDAY, SEPTEMBER 7, 2pm-10pm
updated 08.30.08 Upcoming Quintet Performance at Lowell Festival
Juanito is proud to perform as part of the Fifth Annual New England Culture Fest this Saturday, September 6, 2008. This day-long event is sponsored by Second World, an organization dedicated to promoting Fair Trade through arts and media. Come be a part of the change and enjoy a day of arts, music and dancing!

updated 08.04.08 - Save the Date! Oct. 12, 2008 for Gala Flamenco Event at MIT
The renowned Kresge Auditorium at the Massachusetts Institute of Technology will host the Flamenco event of the year, featuring Juanito and an eclectic and star-studded lineup of musical collaborators. MARK YOUR CALENDARS and stay tuned for more information on this exciting concert.
As always, Go to the Calendar page for a list of other concert dates.

updated 07.24.08 - Back from Spain: Northeastern Tour Underway
After a month recording and touring through Spain, Juanito has returned to the States for a quick Northeastern tour with Sam Lardner & Barcelona. The double bill will bring an evening of Mediterranean Magic! to the following New England stops next week:
Sunday, July 27 ? Club Helsinki in Great Barrington, Massachusetts
Thursday, July 31 ? One Longfellow Square in Portland, Maine
Friday, August 1 ? Waterman's Community Center in North Haven, Maine
Saturday, August 2 ? Stonington Opera House in Stonington, Maine
Thu, Jun 12th, 2008 12:00 AM EDT
JUANITO SETS SAIL FOR SPAIN!
July recording dates finalized for Juanito's collaboration with pianist Alejandro Carrasco
in Valencia, Spain along with performances in Barcelona and Albacete with Alejandro's Trio. Go to the Calendar page for a full list of updates.
Thu, May 29th, 2008 12:00 AM EDT
New Photos, Mp3 & Summer Tour Dates Added
Check out the Photos page for pictures from Juanito's May 3rd
performance at the Kimmel Center in Philadelphia. Also, the Calendar page has been updated with even more dates this summer.

Thu, May 22nd, 2008 12:00 AM EDT
Listen to Juanito's Woodsongs Webcast!
Missed Juanito's recent live performance on the Woodsongs Old-Time Radio broadcast?
NOW you can watch his remarkable April 7th performance at the Kentucky Theatre
which also featured Russ Barenberg and Muriel Anderson
via WEBCAST or AUDIOCAST.
Click Here to watch the Webcast (Episode 479)
Click Here to listen to the Audiocast
Click Here to download an Audio MP3 of the entire performance
Thu, May 15th, 2008 12:00 AM EDT
New Calendar Dates & Video Added!
Juanito announces Summer Tour Dates with with Sam Lardner & Barcelona.
Also DON'T MISS the brand new video of Juanito's thrillling recent performance with John Patitucci, Danilo Perez, Alejandro Carrasco & Jamey Haddad
at the Kimmel Center. CLICK HERE to view.
Thu, Apr 24th, 2008 12:00 AM EDT
Juanito Invited to Join Grammy-Winning Jazz Lumenaries
Danilo Perez, John Patitucci, & Jamie Haddad
For a Special Concert as Part of the Reknowned "Jazz Close Up Series."
Saturday, May 3, 2008
7:30pm at the Perelman Theater in Philadelphia, PA.
CLICK HERE to purchase tickets online.

In the true spirit of jazz, pianist Danilo Pérez, flamenco guitarist Juanito Pascual, percussionist Jamie Haddad, and bassist John Patitucci join forces for an evening of boundary-breaking music. This stellar ensemble will be performing new versions of Juanito's original compositions.

Juanito is honored to be invited to replace Gerardo Nuñez who recently suffered a minor injury in a car accident.
Thu, Mar 20th, 2008 12:00 AM EDT
Juanito to Play Live on "Woodsongs Old Time Radio Hour"

Mark Your Calendar!
Monday, April 7, 2008


Woodsongs Old Time Radio Hour


Live Webcast & International Radio Broacast

Go to the Calendar Page Here to Learn More.
Thu, Mar 13th, 2008 12:00 AM EDT
Juanito Finishing Instructional Book for Flamenco Guitar
"The Total Flamenco Guitarist" to be Published Summer '08
Want to learn how to play flamenco guitar like Juanito?

Señor Pascual is currently putting the finishing touches on a new flamenco method book entitled "The Total Flamenco Guitarist," part of a guitar workshop series put out by Alfred Publishing Co. and Workshop Arts, Inc. In addition to providing a comprehensive guide to the world of flamenco, history, art, and style, the book will include guitar tablature, musical notation, and a corresponding CD. This book will serve as a guide for both complete beginners and more experienced players alike. To learn about the other guitar method books Alfred Publishing Co. publish, and the wide array of guitar teaching opportunities they offer, go to http://www.guitarworkshop.com. The book should ready for a summer '08 release.
Thu, Feb 28th, 2008 12:00 AM EST
New Collaboration with Pianist Alejandro Conde Carrasco -
Summer Tour in Spain to Follow
Last Fall, Juanito was contacted by the Spanish pianist Alejandro Conde Carrasco to collaborate on a group of compositions to be submitted to a competition sponsored by Jazz Revelation Records at Berklee College of Music. One of the compositions (coincidentally titled "JPG," as in "Juanito Pascual's Guitar") won and was selected to appear on a compilation CD featuring outstanding Berklee talent! Juanito has been invited to record a full length CD and perform several concerts this summer with Señor Conde in Spain. They will also be performing this piece in a showcase concert on April 30, 2008 at the Berklee Performance Center in Boston. Details on both events to follow.

Señor Conde is a classically trained pianist from Valencia, Spain who grew up surrounded by Flamenco music. In the last seven years, he has immersed himself in the study of Jazz and his style is a blend of all three genres. To hear the award-winning piece and more samples, Click Here to go to Alejandro's MySpace page.
Fri, Feb 15th, 2008 12:00 AM EST
New on Juanito's Upcoming CD Release:
"Language of the Heart"
Well, many of you have been asking for a while now, "When's the new disc coming out?"

Juanito is delighted to report that all the compositions for my follow-up to "Cosas en Comùn" are nearly completed. He has spent this winter putting the final touches on the 8 new pieces for the CD, which will be titled "Language of the Heart." He will be recording the CD in both Boston and in Spain during the Summer with an intended release date of Fall '08. This CD will feature some of his frequent collaborators, as well as special guests, including a vocalist on a several tracks and a flamenco dancer on a "buleria"-style piece.

More updates to come, so check back soon!