Selling on eBay? Make sure you've got PayPal, the global leader in online payment solutions and the preferred payment method on eBay. Available in over 190 markets and multiple currencies, it is the most efficient and secure payment method for all of your eBay transactions.

PayPal allows any individual or business with an email address to accept payments through all major credit cards, debit cards, and bank transfers in one payment solution. Learn more.

Whether you're selling locally or globally, incorporating PayPal into your eBay listings to attract more buyers and increase your sales is simple. Follow the easy step-by-step instructions below to make sure buyers know you accept payments through PayPal:

Integrating PayPal into your international listings such as eBay.com, eBay.co.uk, etc, can be done with the click of one button or automatically, when you set your preferences in " My eBay".

Here's how:

Go to one of the eBay international sites (ebay.com, ebay.co.uk) or the ebay.com.hk site and click on the "Sell″ tab on the top of any eBay page to start listing your items.


Follow the steps of the listing process on the Sell Your Item
Form. When you reach the "Decide how you would like to be paid″section, select PayPalas one of your accepted payment methods.

Did you know...?
Offering PayPal can increase your chances of successful sales on eBay by 20%1 & generate a 16.7% higher selling price2 for items sold cross-border.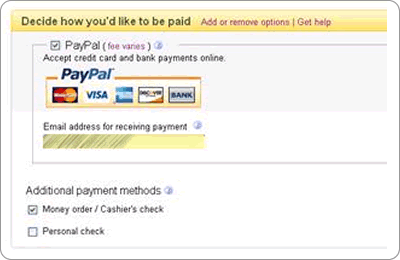 Review and Submit your Listing.
Save Time! To automatically include PayPal as a payment option for all of your international listings, follow these steps to save time. No more manually selecting the PayPal option each time you list an item!
Login to your eBay account and go to "my eBay″.


Go to "Preferences″ in "My Account″ Section


Under "Selling Preferences″, click show "Payment from Buyers″


To change or update your preference, click "Edit″


Select "Offer PayPal as a payment method in all my listings″
You can also set your Auction Preferences in your PayPal account. Learn more.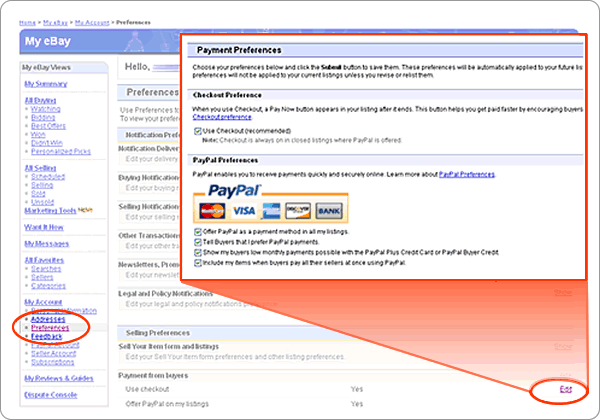 Additionally, for all of your international transactions, PayPal's easy reporting tools provide you with the important transaction information, such as the buyer's postage address, payment status, etc – all the information you need in one convenient location, so you quickly complete your shipments and efficiently manage your business.